TECH STUDENTS IN ROTTERDAM
Technical degrees comprise science, technology, engineering and mathematics (STEM). Of the 19,000+ students in Rotterdam, namely Erasmus University, in 2021/22 at the University level, 27% were following a STEM course. [1]
Specifically, 5,319 students enrolled in a STEM degree in Rotterdam in 2022. Technology and industry degrees accounted for 19% of these diplomas, health-related degrees accounted for 51%, and natural science, mathematics, and computer science accounted for 28%. [1]
THE ROLE OF TU DELFT
The Delft University of Technology, the oldest and largest technical university in the Netherlands, plays a significant role in providing technical education and research that impacts Rotterdam's tech startup ecosystem.
TU Delft offers a wide range of STEM programs in various fields such as engineering, computer science, applied mathematics, architecture, and more. Computer science and related programs cover topics like artificial intelligence, data science, computer engineering, and software technology. Students at TU Delft have access to research opportunities in various STEM disciplines.
With the inclusion of students from the Delft University of Technology, the percentage of students enrolled in STEM courses rises to 68%, with the number of students increasing to 47,000+ per year. As such, TU Delft accounts for 83% of tech talent in Rotterdam and Delft combined. This percentage points to the importance of Delft as a significant source of tech talent.
KNOWLEDGE INSTITUTIONS
The four major knowledge institutions at University and Hogeschool level are TU Delft, Hogeschool Rotterdam, Erasmus University and Inholland Hogeschool. While TU Delft is almost focused exclusively on STEM programmes, Erasmus only has two schools, the medical faculty and the University College, which offers majors in STEM, among others. Since Erasmus is the only university (WO-level) in Rotterdam, this underlines the dependency on Delft for highly-educated tech talent. In fact, Delft has an overall larger student population, accounting for 57.5% of all Rotterdam and Delft students when pooled together.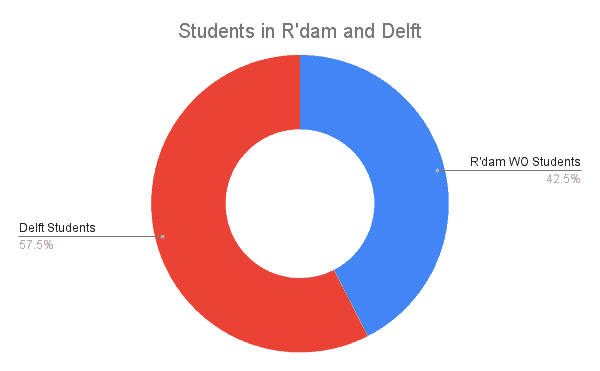 STUDENT DEMOGRAPHICS
A closer look at the population diversity of STEM students points to the lack of female and international students. For example, in Delft, Female students account for only 31% of STEM-enrolled students, while Males account for 69%. This marks only a minor improvement from 2018, when female students accounted for 28%. International students, on the other hand, make up a sizeable 25% of STEM students in Delft.
HBO-LEVEL EDUCATION
Rotterdam's University of Applied Sciences offers a variety of HBO-level (Higher Vocational Education) programs in technology-related fields.
HBO programs typically combine theoretical knowledge with practical applications to prepare students for specific careers. Students often engage in projects, internships, and hands-on experiences to develop skills relevant to the job market.
Many HBO programs collaborate closely with industries in Rotterdam and the surrounding regions, which helps ensure that the education provided aligns with industry needs and provides students with valuable real-world experience.
At the HBO level, tech education in Rotterdam has increased slightly since 2013. HBO students choose to specialise in STEM at 35%. The number of HBO students specialised in STEM reached over 6800 in 2021/22. [1]