Even though remote working technology has existed for decades now, any transition remained limited until the COVID-19 pandemic, when remote working became the status quo. Since then, remote work has been on a decline. According to a Statista poll, 45% of respondents said they worked remotely in 2022 compared to 74% in December 2020 during the peak of the pandemic. Moreover, those choosing to work remotely have to deal with increased bias or less trust by employers, according to about half of the respondents in an international Owl Labs survey.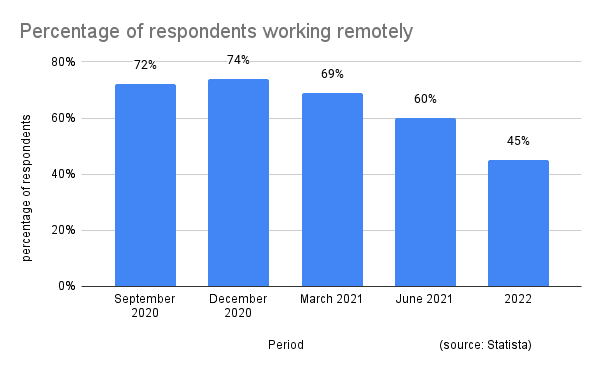 Looking at these trends, it's easy to understand why remote work is declining. But why might this be? Well, remote work has never been for everyone. About 8 out of 10 workers under 35 reported fearing loneliness from working from home long-term.
However, just as remote work seems to be dying off, another model is taking its place: the hybrid work model. Since 2019, hybrid working has increased from 32% to a projected 53% in 2022 for the US. Companies are increasingly adopting a hybrid model, with initiatives such as the work from home day. 
The hybrid work model is a policy that allows employees to split their time between working in the office and working from home. This model has become increasingly popular in recent years as it combines the best of both worlds for both employers and employees.
For example, it can help to improve work-life balance as a result of employees having more flexibility over when and where they work, which can make it easier to manage other commitments outside of work. At the same time, it still allows employees to benefit from an office environment when needed.
For employers, the hybrid work model can also save money. Companies don't have to provide office space for all of their employees. Instead, they can use tools to effectively and efficiently allocate employees through hybrid workspace management. This, in turn,  will allow the employer to shave off overhead costs.
Now, many companies are already adopting hybrid working models. Some of the most prominent companies that have adopted the hybrid work model include ING and ABN AMRO. Besides the obvious benefits, hybrid working models can help to boost productivity and morale and save money on office space costs.